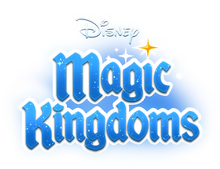 Disney Magic Kingdoms is a world builder game themed off the Disney Parks, produced by Gameloft. The game requires an iPad 2 (or newer), iPhone 4s (or newer) or iPod touch (5th Gen).
Disney Magic Kingdoms was announced at the D23 Expo 2015, with concept art released during the panel. The game was released on the app store March 17, 2016.
When Maleficent casts an evil spell on the Kingdom, ridding it of all its powerful magic, can you help bring it all back? Relieve the thrill of Disney Parks and create the most fantastical Park of your dreams in Disney Magic Kingdoms!
Version 1.07 (April 5, 2016)
Edit
"Minor bugs fixed"
Version 1.1.0 (May 4, 2016)
Edit
"Your Disney Magic Kingdoms is about to get a lot more magical with new characters, attractions and more! Introducing Disney Princess Aurora, and other beloved characters from Disney's Sleeping Beauty.
Resources
Edit
Gameloft's official site: http://www.gameloft.com
Ad blocker interference detected!
Wikia is a free-to-use site that makes money from advertising. We have a modified experience for viewers using ad blockers

Wikia is not accessible if you've made further modifications. Remove the custom ad blocker rule(s) and the page will load as expected.